Archive for the 'Software' Category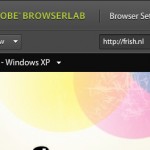 Yesterday Adobe added new features and functionality to Adobe Browserlabs.
The New functionality:
Save Locally: Save screenshots generated by BrowserLab in either 1-Up or 2-Up views. This lets you capture renderings of your web pages in different browsers, to save for easy reference or sharing with clients and colleagues.
Dreamweaver Extension Update
I don't use Dreamweaver, but the ability to save the screenshots is very nice.
If you don't know what Browserlabs is: "Adobe BrowserLab is an online hosted service that lets you test the pages of your web site across a variety of web browsers and operating systems. The service works by taking screen shots of your web pages in different browsers, and then displaying them in the BrowserLab application window."