Weblog
WordPress for Android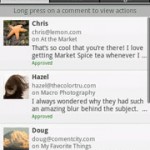 Automattic just launched WordPress for Android. If you're reading this on a Android-powered phone, click here to install the app: WordPress for Android. If you're following me on Twitter you'll probably know by now that I'm a big fan of Android. I've got an HTC Hero, which is basically a Nexus One, but it runs Android 1.6 instead of 2.1. And I think HTC's UI is nicer than Google's.
The WordPress for Android App is still a bit buggy (it crashed when I switched to landscape mode for example), but it's already very useable. Latest comments, posts and pages are all easily accessible.
Some of the options available:
Configure and manage multiple blogs
Comment moderation including the ability to reply to comments
Create and Edit Posts including categories, tags and photos
Create and Edit Pages
Get notified of new comments in the Android notification bar
The "Manage multiple Blogs" feature especially is very convenient. All your blogs one click away on your phone.
Android FTW!
Tags: android, google, google android
The Fine print™: By submitting a comment here you grant this site a perpetual license to reproduce your words and name/web site in attribution.
Your email is never published nor shared. Required fields are marked *