Weblog
The Redesign, a month later..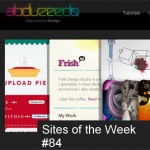 It's been a little over a month since I launched the third redesign of Frish.nl and the response has been absolutely amazing (and overwhelming at times). Almost everyone seems to love the new design and it's been picked up by some of the largest design showcases in the world. To name a couple: Site of the Week at Abduzeedo, Featured at CssMania, Textures In Web Design: Examples And Best Practices at Spyre studios, Featured at DesignFlavr, Featured at DesignSnack and the list goes on and on.
I've also been asked to do an interview twice. Luc Arnold interviewed me for Spicy Webdesigners and you can read the interview here: Rogier Strobbe is the man behind Frish Design Studio out of the Netherlands. And fellow dutchman Edgar Leijs interviewed me for a dutch web magazine called Heeftstijl about the state of dutch webdesign. You can read the entire interview here: Klompen, tulpen, kaas en webdesign? (if you can read dutch off course).
A lot of people wanted to know what font I used for the logo. It's actually an adaptation of Rockwell, called Sketch Rockwell.
The pageviews went through the roof and my site skyrocketed into the Alexa top 100k (even though that doesn't really say anything, does it?). But it'll be interesting to see if I can keep the pageviews on the same level they're at now. I've got some interesting posts coming up!
Stay tuned!
The Fine print™: By submitting a comment here you grant this site a perpetual license to reproduce your words and name/web site in attribution.
Your email is never published nor shared. Required fields are marked *